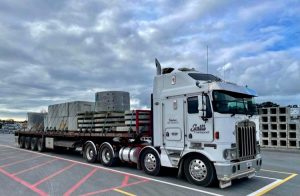 Flat Deck Truck & Trailer Hire in Auckland & NZ
While we specialize in transporting machinery,  as well as heavy equipment and vehicles, our customers often come to us for their other haulage and transport needs. They want to benefit from our experience as well as our fleet of vehicles.
We also offer the use of our general flat deck services. Our fleet consists of a broad range of flat deck, modern, and well-maintained trailers.
We can help move anything that is suitable for transporting on a general flat deck.  We can also transport a  loaded flat deck trailer locally, nationally, and globally.
Flat Deck Truck Hire Auckland Wide
Our team at Smith Transport has the expertise to properly plan the logistics of your transport, plus our drivers have experience dealing with a range of different types of load.  Our truck-mounted equipment on some of our flat deck trailers is capable of loading and unloading transport.
In other words, we'll have a solution for all your flat deck truck hire needs.  With us, you'll get a reliable and affordable service.
Why You Should Choose our Truck Rentals Services in Auckland
We have extensive experience in New Zealand's haulage industry.
We offer the highest possible standards of customer service.
Our drivers are honest, reliable, and professional.
We have a large, modern, and well-maintained fleet of trucks and general flat decks.
Our transport services are available locally or nationally, plus we offer freight forwarding.
We keep our prices competitive.
To get a quote for our general flat deck transportation services, truck or trailer hire, or to find out more about our capabilities, please get in touch with us today at 021 799 301.
What You Can Expect from Our Truck Hire Services in Auckland
Central to the provision of top-quality truck hire services in Auckland, including flat deck truck hire, is the quality of the fleet. So, at Smith Transport, we invest in our fleet to ensure our trucks and trailers are all modern and well-maintained. Having new vehicles in our fleet means you will benefit from the modern performance standards they offer. Well-maintained vehicles, meanwhile, ensure maximum reliability.
We have trucks from various leading manufacturers in our fleet, but most of the truck rentals we have available in Auckland are Kenworth. Kenworth leads the way in manufacturing trucks that are reliable and that get the job done, whatever the load and however tough the conditions.
We don't just focus on our trucks, though, as we maintain a modern fleet of trailers and flat decks too. This includes maintaining the related equipment, including the loading and unloading equipment mounted on some of our flat deck trailers.
Another thing that is important to us here at Smith Transport in relation to our fleet is the environment. Our goal is to minimise the environmental impact of our operations while maintaining high standards of service for our clients.
For all your truck hire needs, including flat deck trailer hire in Auckland, get in touch with us.
Our Team
Providing professional flat deck truck hire services in Auckland requires an experienced team with a broad range of skillsets. Those skillsets include drivers with expertise in working with a range of different loads on a variety of projects. The driver that will collect and deliver your flat deck cargo will have experience in similar projects to ensure maximum efficiency and productivity.
Providing quality truck rentals in Auckland is about more than the drivers, though. They are important, but planners and logistics professionals are essential too. Because of the nature of some of the projects that we undertake here at Smith Transport, we also have people on our team with experience in providing specialist logistics and transport services, including the transportation of heavy and/or oversized loads.
We also have a fantastic back-office team that looks after accounts, admin, customer service, and other important aspects of providing high-quality transport solutions in Auckland and further afield.
The Importance of Technology
Today's transport and logistics industry is very technically advanced, with technologies that improve safety and operational performance while also delivering efficiency gains. We know that companies that stand still when it comes to technology quickly get left behind, so we have made sure we have continued to invest to keep our systems at the cutting edge.
W use technology for everything from planning the delivery of our service to maintaining our fleet to improving the skills and capabilities of our drivers.
Our Process
If you need flat deck trailer hire in Auckland, get in touch with a member of our team today. We will find out more about your requirements, including the cargo you need to transport, the frequency, and the route. We can answer any questions you have as well, then we'll develop a solution, and we'll provide you with a free, no-obligation quote. Get the process starting by calling us now.
Moving Your Machinery and Equipment
Our transport and logistics services are the best in the country and our prices are competitive. Get a free, no-obligation quote today.